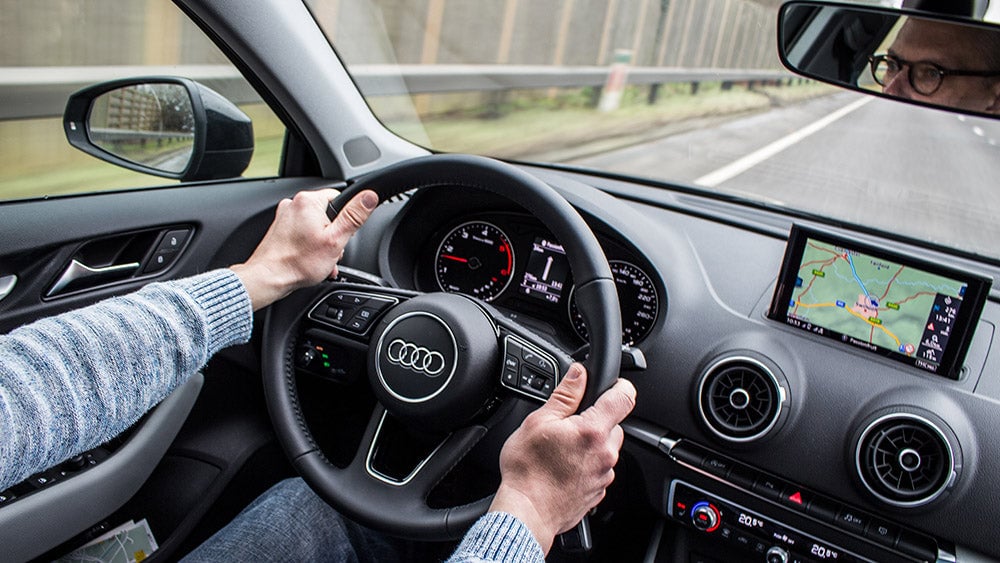 Security has always been a major concern for car manufacturers. Too many car accidents occur every year with enormous consequences. Therefore, the automotive industry is continually trying to find ways to improve the passengers' safety.
We've seen multiple features being developed through the years to protect the vehicle passengers when a crash occurs, like the seat belt and the airbag. Nowadays we're seeing more features being developed to go one step ahead and simply prevent collisions.

60% of crashes are caused by driver distraction. If we can find ways to improve the driver's attention span to the road, or limit the errors caused by inattention, we'll reduce the number of accidents on the road. Some recent car models trigger different alerts when you're following another vehicle too close, or when you're trying to change lane and somebody's in your blind spot. Those measures are effective, but they could be improved with using haptics.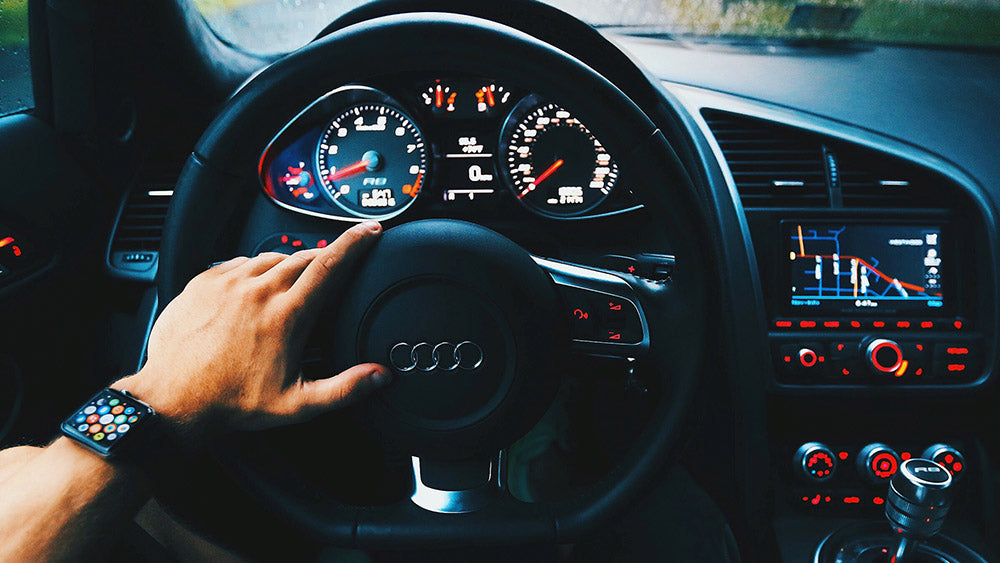 Driver's Visual and Auditive Senses Are Overloaded
While alerting the driver to avoid collision with visual and auditory signals is definitely improving safety, there is a problem. Driver's visual and auditive senses are already overloaded while he's driving. The driver needs to look at the road, look at his dashboard to respect the speed limit and be alert to different kinds of visual signals. He/She also has to hear what happens on the road while probably listening to music or even having a conversation with another passenger or over the phone. A lot can happen while driving a car!
Adding more visual or auditive alerts might bring too much information at the same time for the driver to process it fast enough to efficiently use it. We need to find another way to bring those signals to the driver in a unintrusive, but efficient, way.
Recent studies show that haptics has a lot of potentials to generate those emergency signals. They could be used in various areas in the car and they can be highly effective!
Haptics Are Better than Visual and Auditory Warnings to Improve the Driver's Road Awareness
The touch sense is underused while driving. The car doesn't share any kind of information through the driver's sense of touch. However, humans are used to relying on touch in a lot of areas. This represents a great opportunity to improve security!
Plus, studies show that tactile feedback warnings are highly effective. Even more, than using visual and auditory signals/alerts. Not only are we underusing the touch sense while driving, but it's the more efficient way to communicate with the driver!
In the study A Comparison of Tactile, Visual, and Auditory Warnings for Rear-End Collision Prevention in Simulated Driving by J. J. Scott, United States Air Force, Edwards Air Force Base, California, and Robert Gray, Arizona State University, Mesa, Arizona, researchers tested what the more efficient way to alert the driver of a possible rear-end collision was and prevent the accident. Their results show that the best communication channel is tactile warnings. Here are the last words in their conclusion:
The findings show that tactile warnings improved aware, expectant, and undistracted driver braking responses better than did visual or auditory warnings.
More research is necessary to determine the most effective way to present tactile warnings to the driver, but these findings provide support for tactile warnings as effective rear-end collision warnings.[1]
Haptics can be used in multiple areas and are highly effective in improving security in automotive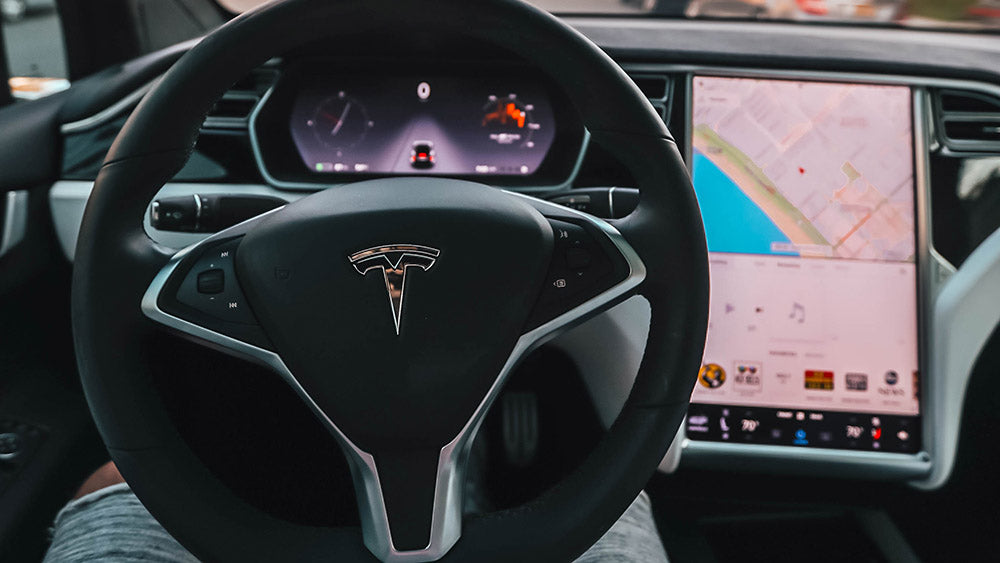 New haptic technologies, like piezoelectric actuators, can be quite effective in a very small package. You could use them in various areas in a car to trigger different warnings to the driver without adding stress to the visual and auditory loads.
The study The Use of Haptic and Tactile Information in the Car to Improve Driving Safety: A Review of Current Technologies by Yoren Gaffary and Anatole Lécuyer tested the different kinds of usage of actuators in an automobile and their efficiency to alert the driver. The results are extremely promising for haptics in various areas of the car. We REALLY recommend you go take a look at it to see how much haptics can improve automotive safety. Here are the key examples the researchers tested.
Steering Wheel
Haptics in the steering wheel could help with navigation. The study reported that participants made 3.7 times fewer errors using haptic-auditory feedback compared to auditory feedback alone![2] Steering wheel haptics could also be used for collision prevention and to notify the driver that he's dangerously switching lanes.
Reaction time went from 1.6 to 1.4 sec when using haptics on the driver's hands or wrists to prevent a collision.[3] While it looks like a small gain, the braking distance difference between the two reaction times can definitely make the difference between an accident and a life-saving last-second stop.
Seat and belt
Actuators could be used in the seat and seatbelt to help improve the driver's awareness of his surroundings. Your seat or belt could tell you that you have someone standing in your blind spot, for example. They could also provide a warning if a collision is imminent from the front or back of the car and prompt the driver to take action.
Dashboard and Infotainment
Infotainment systems in cars follow the same design evolution as every electronic device. Buttons and knobs are replaced by touchscreen panels in many cars. The problem with touchscreens is that they have no tactile feedback and any operation requires more visual attention from the driver. Adding haptics in those touch panels would bring back the tactile confirmation that we had with mechanical buttons and knobs.
Adding Haptics to the dashboard and infotainment system reduced eyes-off-road-time by 19% and up to 39% with visual and haptic alerts combined.[4]
Pedals
Speeding warnings could be triggered in the pedal to alert the driver that he's exceeding the speed limit. A gentle tactile reminder for when the driver is unaware that he's traveling too fast.
Speed was reduced by almost 10% when using haptics on the gas pedal in real driving situations.[5]
Piezo actuators can play different types of touch feedback and create unlimited tactile information for the driver
As you can see, haptics can have a meaningful impact on security in the automotive market. We believe piezo haptic is the logical technology to use in automobiles for multiple reasons, but here are the three main reasons.
Strong Haptic Feedback to Overcome the Road Turbulence
Haptic feedback in a car needs to be strong enough so it won't be muted by road feedback. Piezo actuators can produce way more powerful feedback than legacy technologies like ERM and LRA. The new 120 V PowerHap piezo actuators lineup from TDK can reach acceleration forces up to 50G, which is more than 20 times stronger than what you can experience on your smartphone. ERM and LRA just can't compete with that level of performance.
Different Alerts from the Same Actuators Require a Large Frequency Bandwidth
You can trigger different infinite tactile effects with piezo actuators thanks to their large frequency bandwidth. For example, you could trigger some gentle navigation indications on which side to turn on the steering wheel and some strong and aggressive feedback, still from the same actuator, to notify the driver that he needs to brake as fast as he can to avoid a collision. Piezo actuators can create highly detailed effects to share different kinds of information in a way that ERM and LRA can't.
Piezo actuators are more reliable and already used in the automotive market
Piezoelectric actuators are already used in the automotive industry for fuel injectors in motors. Their reliability and precision are second to none. The same applies to haptics. ERM and LRA both rely on moving parts and are more prone to mechanical failure. While it may not be as important in a smartphone, which has a very limited lifetime, a car normally last more than 10 years. Your piezo haptic solution won lose its efficiency over time.

[1] J. J. Scott, Robert Gray, "A Comparison of Tactile, Visual, and Auditory Warnings for Rear-End Collision Prevention in Simulated Driving", United States Air Force, Edwards Air Force Base, California & Arizona State University, Mesa, Arizona, USA
[2] Yoren Gaffary, Anatole Lécuyer, "The Use of Haptic and Tactile Information in the Car to Improve Driving Safety: A Review of Current Technologies", Inria Rennes & UMR IRISA, Rennes, France
[3] Yoren Gaffary, Anatole Lécuyer, "The Use of Haptic and Tactile Information in the Car to Improve Driving Safety: A Review of Current Technologies", Inria Rennes & UMR IRISA, Rennes, France
[4] Yoren Gaffary, Anatole Lécuyer, "The Use of Haptic and Tactile Information in the Car to Improve Driving Safety: A Review of Current Technologies", Inria Rennes & UMR IRISA, Rennes, France
[5] Yoren Gaffary, Anatole Lécuyer, "The Use of Haptic and Tactile Information in the Car to Improve Driving Safety: A Review of Current Technologies", Inria Rennes & UMR IRISA, Rennes, France