We're now used to using touch screens almost everywhere. Many products have seen their design go from physical buttons to touchscreens for input purposes. While touch displays are great for customizing the user experience, they lack the sense of touch, which is really important for humans.

We're seeing more and more companies improving their screen technology. One of the areas where touchscreens need to improve is input accuracy. Since we can't feel where we put our finger on a display, we need to find a way to bring back the sense of touch in our devices.
That's where haptics can help fill the void. Haptic technologies can help replace the touch physical button feeling that humans are used to enjoying. This is really important in devices where the attention span from the user is short or nonexistent (like when driving a car).
But one question remains… Can haptics really improve touchscreen input accuracy?
Improving Typing with Haptics on a Touch Screen Mobile Device
A study conducted by Eve Hogga, Stephen A. Brewster and Jody Johnston from the University of Glasglow[1] is showing great promise for improving touchscreen input accuracy with haptics.
They compared the input accuracy between a smartphone with a physical keyboard, a smartphone with a touchscreen keyboard and another phone with a touchscreen keyboard enhanced with haptics.
Participants had to type, as fast as they could, sentences they previously memorized while limiting the number of errors.
The results speak for themselves! Touchscreens using haptics show accuracy levels that are near the performance of a physical keyboard, while touchscreen keyboards that are not using haptics are left behind.
The mobile physical keyboard had an 89.6% level of accuracy, the haptic-enhanced touchscreen keyboard had an 80% level of accuracy and the non-haptic touchscreen keyboard registered an accuracy level of only 65.8%.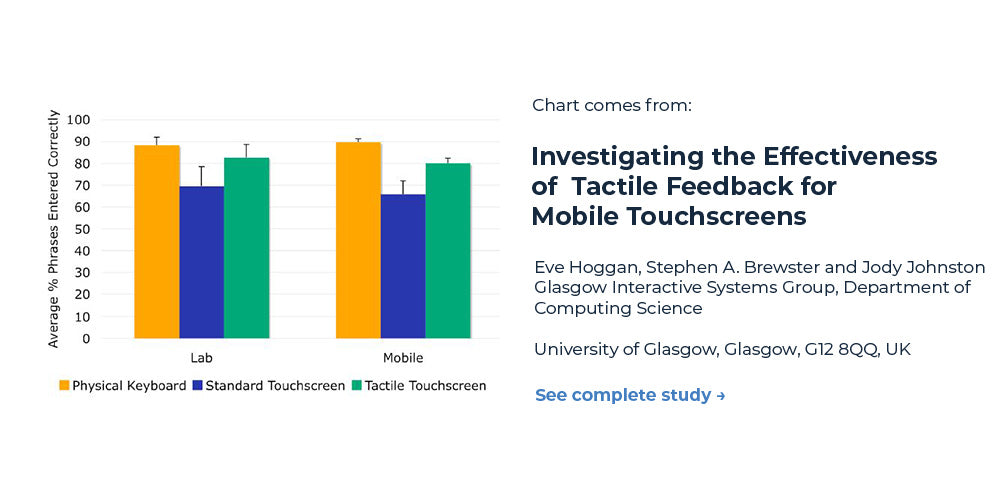 Where it gets really interesting is that the study also shows that when you use better-performing haptic hardware you can push those numbers even higher. When they did so, the haptic touchscreen keyboard accuracy level improved to 81.6%.
Haptics vs. Auditory Feedback Effectiveness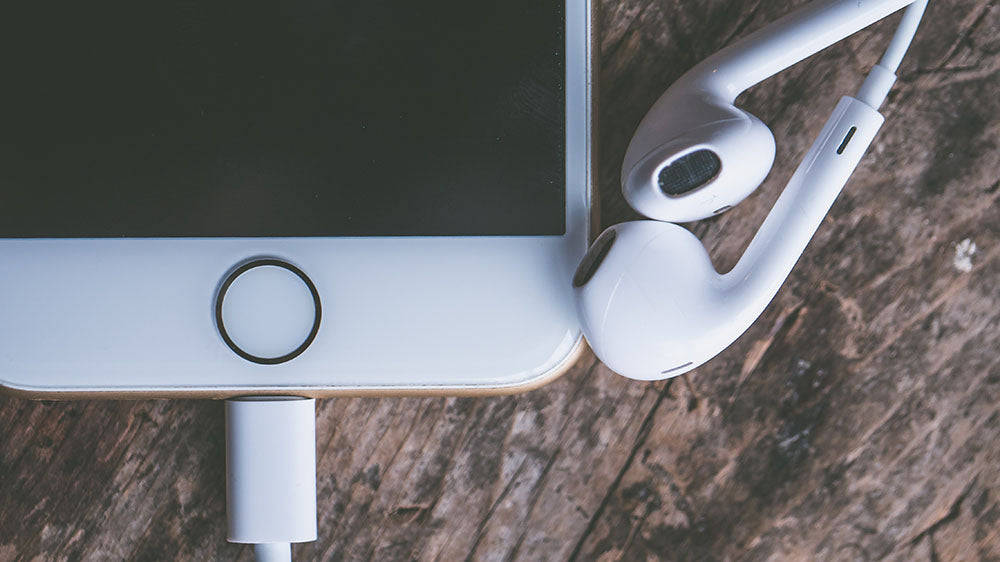 Haptics improve touchscreen input accuracy, but what about audio feedback? Some devices replicate the sound of a typing keyboard (like the iPhone). Isn't that a better way to improve input accuracy? What is the best for input accuracy between haptic and audio feedback?
Another study, conducted by Zhaoyuan Ma, Darren Edge, Leah Findlater, Hong Z. Tan for the Northwestern University[2], measured the difference between input accuracy between audio and haptic feedback.
They compared the typing speed and accuracy between a physical computer keyboard and a flat keyboard using haptics and sound.
In both cases, the results show that haptic does have a great impact on improving accuracy. Audio feedback? Not so much:
"The ANOVA results showed that haptic feedback had a significant effect (F3,69=4.75, p=0.005, η2=0.171) on total error rate, but audio-click feedback did not (F1,23=0.004, p=0.949, η2=0.000). There was no significant interaction between audio-click and haptic feedback (F3,69=1.69, p=0.178, η2=0.068)."

- Zhaoyuan Ma, Darren Edge, Leah Findlater, Hong Z. Tan
Does Haptics Improve Typing Accuracy on Mobile Devices?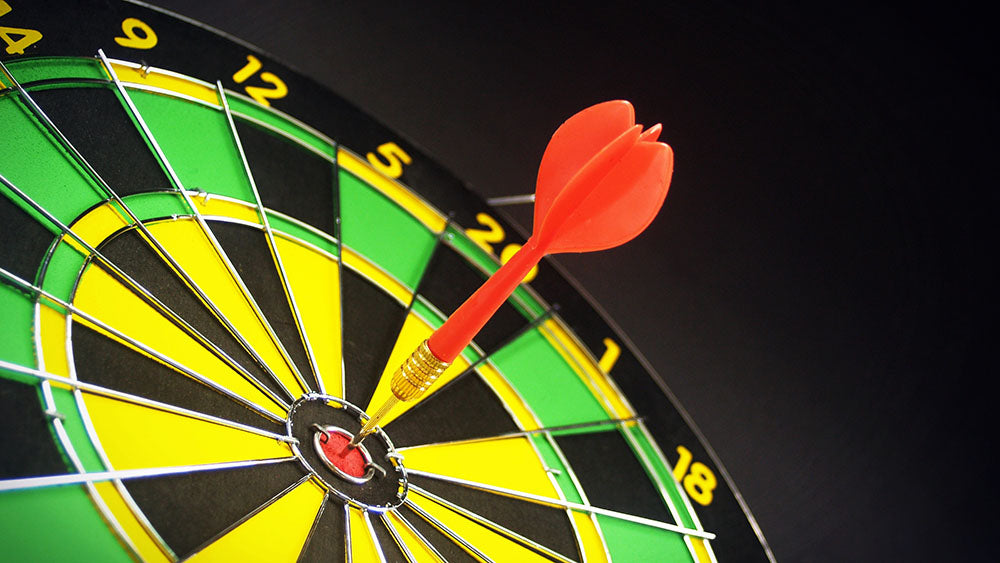 The answer is clear, with a resounding yes!
Haptic feedback really improves touchscreen input accuracy. It also improves typing speed.
One of the studies also stated that using better haptic technologies also improves even further the results. Engineers have an important decision to make when selecting the haptic technology used in their products.
It's now important to start experimenting with what haptic feedback can bring to your device.
Android vs iOS Haptics
You may already enjoy the benefits of a hahaptic-enhancedeyboard if you're using an Android smartphone. Devices powered by Google's mobile operating system usually come with this feature activated out of the box. You may need to look at your device's settings if your phone doesn't vibrate when you are using the keyboard.
What is surprising is the lack of haptic feedback when using the keyboard on iOS devices. While Apple is making big marketing efforts with their Taptic Engine, they're not leveraging their haptic technology to improve input accuracy on the standard keyboard.
There is still a way to experience haptic feedback with a keyboard within iOS. You can download the Gboard keyboard, made by Google, on the App Store and activate the haptic feedback within the app (this part is important, the keyboard doesn't do haptic feedback from the start). You'll be able to feel haptic feedback for every input you do with the Google keyboard.
Your Haptic Integration Can Make or Break the Whole User Experience
Now that we've seen that haptics can improve touchscreens input accuracy, it's important to understand that it can have the complete opposite effect if the haptic feedback timing is poorly integrated.
Imagine having a 0.5-sec delay between the input and the haptic feedback. While a half a second delay doesn't seem like much, it can break the user experience. The user may type twice the same input if he types something and doesn't get instantaneous (or close to) feedback. It can be frustrating for the user to have to erase and correct the error if it happens often.
It's important to experiment and reach the perfect timing between the user input trigger and the haptic feedback.
There's No Better Haptic Solution to Replace Buttons than Piezo Actuators
Remember that studies show that using a better haptic technology can push the input accuracy level higher. So which technology is better to replace buttons? You should take a deep look at piezoelectric haptic solutions!
Legacy haptic technologies like ERM (Eccentric Rotating Mass) and LRA (Linear Resonant Actuator) are not able to do localized high-definition haptic feedback. They're not suited to replicate keyboard button feedback. The whole device vibrates when they create feedback. This means your whole hand feels the feedback.
You can experiment with this feeling with a simple test. Take your phone (There's a fair chance your phone is using either an ERM or LRA-based haptic technology) and put it on a flat surface. Open any app that needs text input so your phone keyboard opens up. Use your left-hand index finger to feel feedback from the device on the keyboard's opposite side. With your other hand, you can type any key on the keyboard. Feel the feedback in both hands? That's because the whole device is vibrating!
Piezo haptic solutions can produce more refined and localized effects. Take a look here to learn more about piezo haptics. It's the best solution available on the market to replace physical buttons on your device with haptics.
Start Experimenting with Haptics in Your Application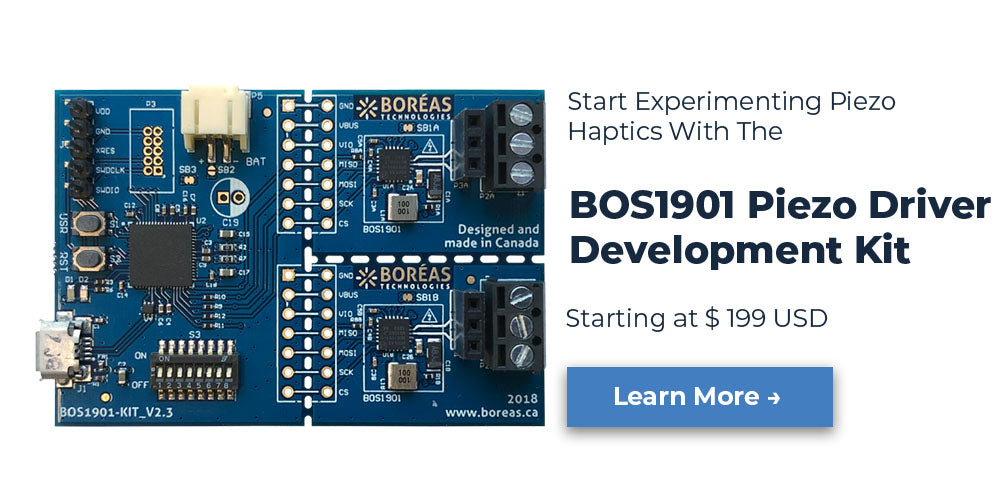 The best way to see if haptics can improve the user experience of your device is to start experimenting!
We have development kits available if you want to test piezo haptics effectiveness and their power consumption. The kits use our BOS1901 integrated circuit, the most power-efficient haptic piezo driver on the market.
You'll be able to play basic haptic effects with the help of our PC application and you'll be able to integrate it into your application with the help of our application engineering team.
Don't be left behind!
Many companies around the world, from various markets, are starting to put more effort and investments into haptics for their products. It isn't surprising, that haptics can improve touchscreens on many levels and bring back the sense of touch in electronics. It truly helps to improve the user experience.
While the best scenario would be that you and your team are already experimenting with haptics, it's a wise decision to start testing what they can do for your electronic product. We're here to help you take your device's user experience. Don't get left behind by the competition!

[1] Eve Hoggan, Stephen A. Brewster and Jody Johnston, "Investigating the Effectiveness of Tactile Feedback for Mobile Touchscreens", Glasgow Interactive Systems Group, Department of Computing Science, University of Glasgow, April 6th 2008, Glasgow.
[2] Zhaoyuan Ma, Darren Edge, Leah Findlater, Hong Z. Tan, Senior Member, IEEE , "Haptic Keyclick Feedback Improves Typing Speed and Reduces Typing Errors on a Flat Keyboard", 2015 IEEE World Haptics Conference (WHC), Northwestern University, June 22–26, 2015. Evanston, Il, USA.